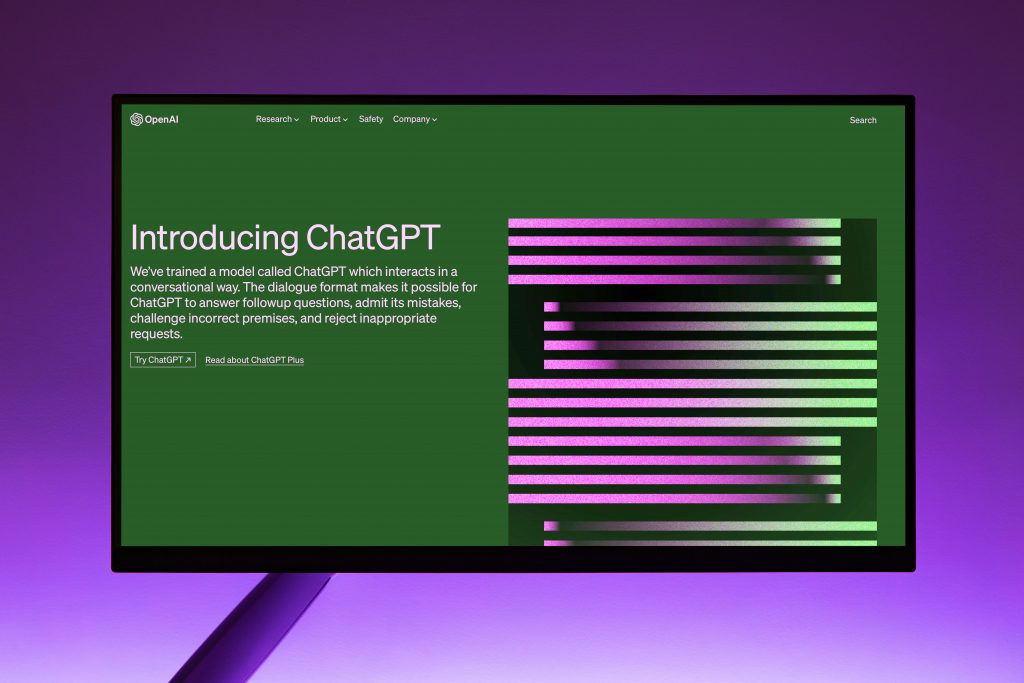 A boom that translated into more than 100 million users globally in just two months and that also put Big Tech in sprint mode to launch its proposal as soon as possible.

This tool put artificial intelligence in the spotlight it needed, making it accessible, practical and highly functional.

And as with every technological innovation, since its launch, several threat hypotheses have emerged.

The most talked about have been the replacement of the role of content generators, editors and journalists, and the controversy it may unleash in terms of authorship and intellectual property rights.

Forward Thinking Marketing

At LDM we are committed to understanding and analyzing new digital trends, including the launch of artificial intelligence tools.

We have the firm conviction that artificial intelligence is not the protagonist, making good use of it must be the smartest factor in all this.

But it is not only about adapting new technologies because they are trendy. The process in each region is very different and our mission is to know exactly how to connect them with the present of our market and our customers.

And in this case, the focus of the last few weeks was Chat GPT.

We needed to tell from our own experience, a point of view built with evidence and solid foundations.

And we are moving forward. The essential thing is to know that it is an adaptation curve to obtain the best benefits from artificial intelligence, with the responsible use that this represents.

Everything is evolving and with it, so is our learning.

Chat GPT and SEO

Jorge Batista | Head of Search
Chat GPT is a very good complementary tool in keyword analysis, content research, general SEO, competition research and search trends. However, like any new technology, it has its flaws, especially in areas of expertise, so any work done with its help should be reviewed and verified by a specialist in the field.
As Chat GPT itself responds: "I can be a useful tool for an SEO specialist and help improve the SEO strategy of a company or website, but I cannot completely replace the role of an SEO specialist in the implementation and optimization of an effective SEO strategy."


Another important point to consider that one of the biggest challenges of an SEO specialist is not technical, strategic or content, it is not to diagnose and identify problems on a website, the real challenge is to get these problems corrected, many times a website involves multiple actors and teams, coordinating all the teams to reach the correction is the biggest challenge.

Chat GPT and HTML Codes

Another good practice to get benefits from this tool is to use the support to suggest proposals at code level to help optimize time in the implementations between the SEO team and Technology or Business Intelligence.

And something more interesting is that we can generate HRFLANG tags that help us to geolocate the content in question.

Alan Telpalo | Business Intelligence
Chat GPT can function as a great operational assistant, especially as a "reviewer" of processes as diverse as content, code or information in general; however, it is wrong to think that it replaces people in that – for now – it is not a tool capable of cognitive processing or creative thinking; in our BI area, it has helped us mostly in processing large databases to classify more efficiently and thus facilitate our analysis processes.

Chat GPT and Content Generation
The most common mistake is to confuse it with a self-sufficient tool that generates functional content on its own from start to finish. In this area of use, Chat GPT will support you at the mid-point of the process, it is not something you should consider as a complete and efficiently stand-alone solution.

The most common mistake is to confuse it with a self-sufficient tool that generates functional content on its own from start to finish. In this area of use, Chat GPT will support you at the mid-point of the process, it is not something you should consider as a complete and efficiently stand-alone solution.
Valeria Becerra | Communications

In a very short time and with simple steps I was able to personally connect with the benefits of using this type of innovation in my operational processes. An experience that I previously assumed outside the functions of my expertise in content marketing.

The intelligent use from my role is to apply this tool once you have landed the key messages of the communication, the fundamentals, data and references that will validate your content and the keywords that you previously analyzed with the SEO team. All these elements are criteria that Google itself evaluates as high quality content.

You must be the guide of the tool, the mind of the creative idea and strategy, and not wait for the AI to automatically develop paragraphs that are ready just to copy and paste.

I got the benefit when developing longer pieces integrating all the above elements. The results of KPIs (Open rate and CTR) in the email marketing strategy remained the same and in some cases up to 15% higher than previous articles. This helps me to evolve and further segment my communication thanks to the optimization of efforts and operational times.

Artificial intelligence and the role of digital agencies

imagen Alberto Álvarez | CEO Endavant

With every new disruptive technology, we must always take into account the innovation cycle, called "hype cycle" which consists of 3 major stages:

1) inflated expectations,

2) Disillusionment,

3) Maximization

Open AI and Chat GPT3 are in the first stage, they are highly disruptive technologies that generate extremely high expectations of what is possible. Given the level of expectations, we will soon enter the disillusionment stage, which is not really based on the technology, but on the very large gap created between the reality of the technology and the expectation of the people.

Our responsibility as digital marketing, innovation and technology partners is to accompany our clients from the beginning to really understand what is possible today and what will be possible tomorrow. And to focus our energy on making the most of today at a business level and to prepare the company and the teams for what will be possible tomorrow.

Contact us and take your customer journey to the next level!