In previous articles, we talked about Social Listening and its importance for brands. Further knowing when people mention your company, it is very necessary to know what users really say about it.
That is why when we collect large amounts of data, we need to find the most efficient way to analyze it. Undoubtedly, through social listening, we are able to classify all that data as a whole to select the one that interests us most.
Social Listening is responsible not only for analyzing the content we publish but also for improving our strategy. This improvement refers to the key component to achieve the engagement we need through the analysis of comments, conversations, opinions, preferences and user data. The real goal we must achieve with Social Listening Marketing is to measure through our strategy, the performance of a brand, product or organization.
Once we know what we need to do, that's when we look for the best platform to achieve it. At Latam Digital Marketing we set the task of doing all the research for you and compare the best options on the market. Here we present the winner:

---
For Social Listening in your company, use Karma Pulse
After much research and comparing various Social Listening platforms, we get one that offers the best cost/benefit.
Karma Pulse is a measurement platform for analysis, and interaction on social networks using artificial intelligence. It filters, segments, classifies and analyzes social network profiles, (as well as the competition) as well as listens and understands what your customers say in real-time.
Its services are being used by companies around the world, from television channels and universities to international banks. In addition to artificial intelligence productos loaded with specialized analysis of market conversations, as well as focus on real-time and monitor real-time Spanish-speaking conversations.
Some of the options you have within this platform are:
These Social Listening rooms allow you to visualize the most relevant data for the decision making on executive boards your business focusing on brand, sales, communication, and user experience. At the business level, it allows us to ask precise questions to each area and take the necessary actions in a timely manner.
The Executive Boards of War Room are a simple tool that presents an x-ray of the most relevant topics of our brand. Besides, it is an excellent ally for customer service, sales, marketing, and communication areas.
Not only do we have knowledge of the actions of the competition, but we know aspects of our company that were indifferent to us.
The reports allow you to understand the data in depth to answer the questions you need to solve through data, graphs, findings, trends, and recommendations.
Also, the reports are specially made, so you can know the market's behavior. Unquestionably, you can discover the practices of your sector and create strategies with specific information to your field in the digital world.
It generates social experiences using different strategies that attract your audience, increase your brand presence and trigger social interaction.
Segmented Twitter Publicity
The most innovative social media advertising on Twitter for your audience through interest segments.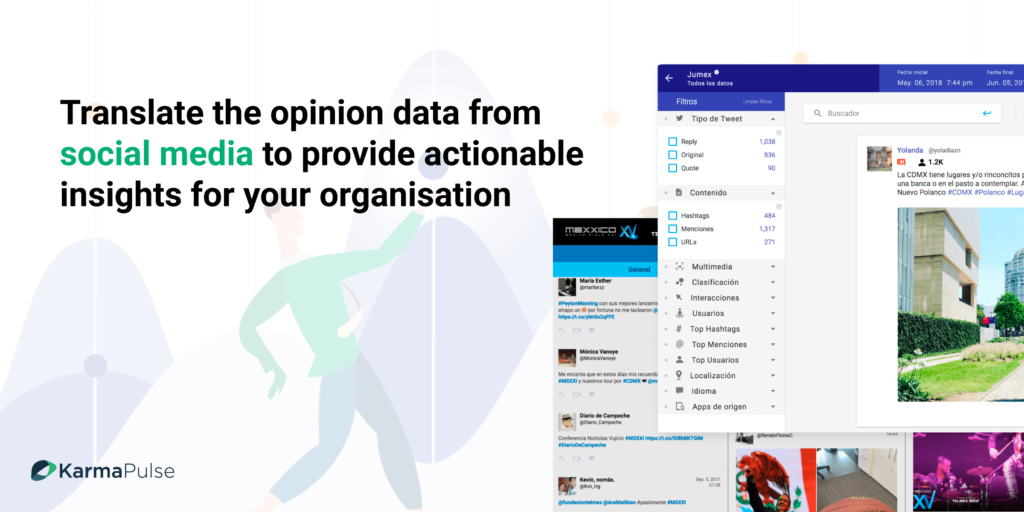 ---
6 Benefits of Karma Pulse compared to other platforms
Personalized alerts about the brand, with which you will be able to detect movements of the brand.
Monthly status reports of the account.
Content Monitor specialized in Hispanic American platforms, and compare them.
Machine Learning as a tool to improve the learning of the algorithm, thus improving the collection of information.
Measures the Brand's Health of the competition to show us how we are in comparison.
Analyzes the reactions through emojis, content, comment hours and more.
Why is it important to do Social Listening?
It allows you to detect new niche markets.
It analyzes your direct competitors.
It identifies the main influencers/ambassadors of your brand.
It knows the brand's feeling your audience has.
It knows in real-time everything that is happening with the brand and alerts at the time of crisis.
Without Social Listening strategies, you may be losing crucial information about what happens in your profiles.
If you are not listening to what is happening on your social networks, you are working in the dark.
Karma Pulse as one of our softwares
Through marketing we need to know the brand's health we are working with, that's why we use Karma Pulse. This tool is essential to plan strategies that will allow us to analyze high volumes of data.
Also, it allows us to know niches in which we talk about our brand and the moments in which this happens. This especially means that through Artificial Intelligence we are also able to predict trends and improve our strategies.
One of the biggest features that we take advantage of from the platform is that 90% of the actions that can be performed are adapted to the needs of each client.
Our biggest satisfaction is to know that through Artificial Intelligence the processes are technologically automated. This is why we do not waste time or effort in manually teaching the platform to understand what users are saying.
Success stories with Social Listening
Social listening offers great potential benefits to achieve your strategic objectives. Currently, big brands are developing this automated practice to achieve different purposes.
Some companies use social listening to connect with new clients and influencers, aiming for unique offers in a shopping experience. Without a doubt, with social listening you can manage the reputation of your brand; therefore making user experience unforgettable.
Below, you will find some practices that will help you understand cases where Social Listening worked.

Desi Perkins is a popular YouTuber that creates lifestyle and beauty content. She currently has 3.2 M subscribers. She offers advice and product recommendations in her videos with a great influence on her followers.
As an influencer, Desi Perkins adopts a routine and beauty tricks that her followers want to emulate to achieve. For example, one day she decided to make a garment in the ASOS online store that was not in stock. Then, Desi Perkins decided to raise this situation in social networks:
"Why does @ASOS show me beautiful articles that are sold out on their website? Every product I select is not in stock.

Desi Perkins
This post was uploaded to Twitter and in less than a day she got an immediate reaction from users, with 32 retweets and 771 likes. Soon her followers began to interact with her and offered online store alternatives that had a similar cost.
The ASOS store responded to Desi Perkins's tweet in 12 minutes to offer a solution. It is very important that brands respond as quickly as possible, managing mentions of their brand. Don't know what social listening is yet? In this case, this practice allowed ASOS to be attentive to users' opinions and respond to Desi Perkins.
Netflix Socks
Netflix keeps the user in mind at all times and aims to offer you a unique experience when you are watching your favorite shows and movies. In the Shorty Awards they pointed out "when we are not publishing, we are listening, looking for the new trends that drive the world of entertainment".
In this way, Netflix values ​​the user experience and uses social listening to be as satisfactory as possible. A clear example is the product offered: Netflix Socks.
When Netflix practiced social listening, he observed that many users fell asleep while watching a series or movie. Therefore, Netflix detected an opportunity to offer smart socks; When the user is falling asleep, they send a signal to the television and pause the program they are watching.
---
Here we present more about Karma Pulse and everything it can do to boost your business. This is part of their presentation at the LDM Kore AI Hub in Mexico City:
*Remember to activate the English captions
---
If you want to know more about related topics, our Marketing Automation section tells you more about the use of software to automate tasks.
If you'll like more info and pricing for Karma Pulse for your brand or business, click here:
At Latam Digital Marketing, we are the right marketing performance agency to help grow your brand. Let's talk about your next digital strategy!