In a world where the concepts of traditional advertising have been displaced by the digital era, all companies must know and work with Mediamath Programmatic. That's why in Latam Digital Marketing we could not miss the opportunity to attend the 3rd edition of the Future of Marketing in Mexico, where we were also invited as speakers.
The Future of Marketing 2019 showed how big brands are transforming the way we do marketing in Mexico. Besides, they emphasized that today strategies should be designed to develop experiences. On the other hand, it is important that these experiences create, in the consumers, the need to acquire a product or service. And at the same time, to achieve business objectives always keeping in mind the trends and innovations of the sector and competition.
"Digital marketing represents 30% of the advertising investment in Latin America," said our CEO Alberto Álvarez during his speech.
More than 9,500 marketers from 42 countries met at the Future of Marketing 2019 to learn about the importance of launching, analyzing and optimizing their digital advertising campaigns.
During this event, people had the opportunity to hear how big brands are transforming the way of doing marketing in Mexico. On the other hand, it was highlighted the importance of developing experiences that create, in consumers, the need to acquire their product or service and, at the same time, to achieve commercial targets.
In this digital era, we must always be one step ahead of trends and innovations, with our brands directing them.
The Omni-Channel Consumer Era
Starting on the theory of a customer belonging to a single model of purchase, now we move to the new era where the consumer can move from one platform to another before buying. Therefore, in the retail industry, we refer to a new purchase model, where the consumer can have a first contact with the brand, but move to another to close the sale.
62% of internet users in LATAM interact with the product online before buying it offline.
All the strategies of the brands must be designed for the omnichannel consumer. Therefore, the information must be unified, making the user feel that there are no differences between the shopping platforms.
An important fact is a personalized treatment that occurs through each of the available channels, allowing to identify in a better way the preferences of each buyer. This allows the retailer to know if this purchase only products of recognized brands. If your selection of products is based on discounts and even identify your favorite colors when dressing.
Latam Digital Marketing as a Speaker
In the representation of the work done by our agency, our CEO, Alberto Álvarez, was invited to participate in the Future of Marketing 2019. After working for almost a decade in marketing at Procter & Gamble decided to enter the digital era and focus on developing entrepreneurship in Latin America.
As part of his speech, Alberto spoke about the importance of understanding how we should measure the impact of investment in marketing in each sale, regardless of where in the ecosystem the action was taken, its measurement should be clear and concise. So, with this perspective in mind, omnichannel platforms must be developed to bring closer a customer who only has physical points of sale with a consumer who lives in the digital world.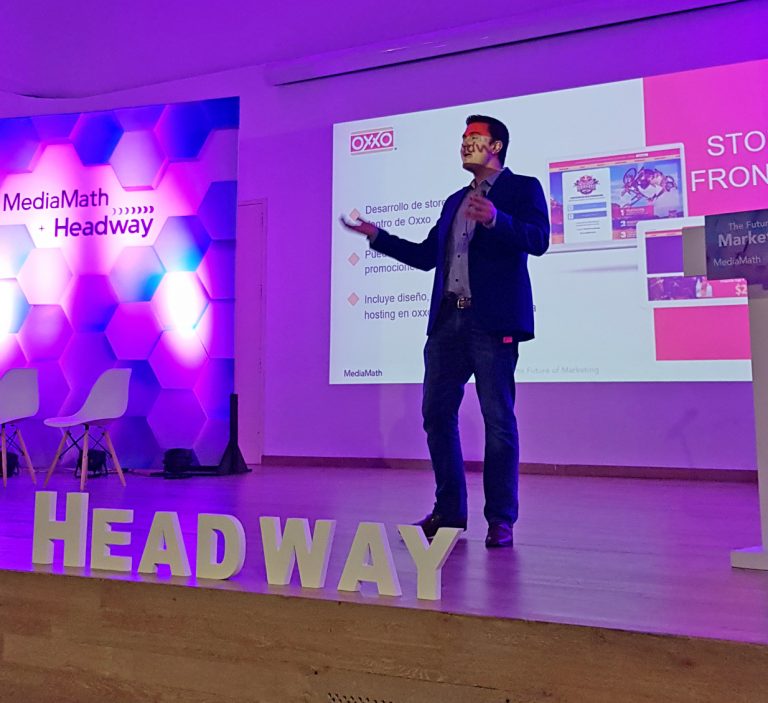 For LDM, one of the main causes of on-going success is OXXO. It is important to note that this is the largest retailer in Mexico and a pioneer in betting on omnichannel. Nowadays, it has 17,500 stores, more than 18,000,000 daily transactions and more than 2,500 promotions per month.
With this brand, was implemented an Ads Network strategy, bringing great benefits to the company. One of the highlights made was how through MediaMath Brain is possible to reach people with similar profiles to buyers of each category of Oxxo products, and address them through different advertising channels. He ended his speech stating as follows:
It must be possible to measure, in a clear way, the impact of our investment in marketing and in each sale, no matter where it is made.
For those who could not attend the Future of Marketing 2019, here is a recap of what this event was:
If you want to know more news about Latam Digital Marketing events, don't forget to visit our section.
Latam Digital Marketing is the indicated Performance Agency to grow your brand.
Let's talk about your next digital strategy!